University of Birmingham to open a School in Selly Oak. 
The University of Birmingham School, just off Bristol Road in Selly Oak, will open in September 2015 to children aged between 11 and 16. 
The School, which will be free to attend, seeks to bring pupils together from different social and cultural backgrounds to create an environment that reflects the diversity of Birmingham and provides opportunities for everyone to excel. It will focus on character development, provide engaging and challenging teaching and learning designed to meet the needs of the individual and through its extended school day ensure the students enjoy an extensive programme of extra-curricular opportunities, all connected to the University of Birmingham which was named the University of the Year 2013-14.
Parents who want to find out more about the new University of Birmingham School, and how to apply for a place for their child are invited to two information events  at 7PM on Monday 7th July and Wednesday 9th July.  
The events will be held at Orchard Learning Resource, Centre Selly Oak, B29 6QW. They are a chance for parents to hear about the educational vision of the School, the progress being made with the development of the curriculum, the extended school day and the links being planned with the University of Birmingham together with details of the admissions process and criteria for entry.
The School Principal, Michael Roden (formerly headteacher of King Edward VI Camp Hill School for Boys in Birmingham), who took up his position in April this year, will present information and respond to questions from parents.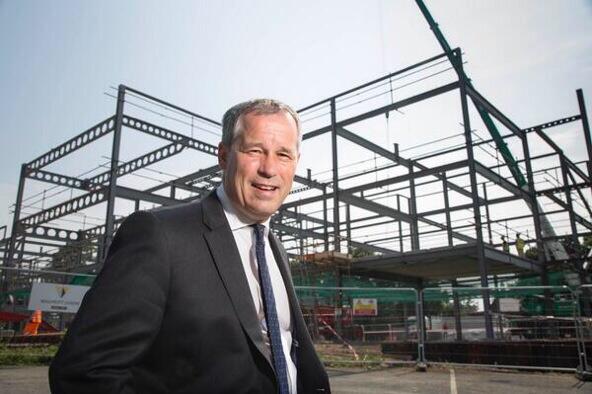 Mr Roden (pictured on site), said: "I will be delighted to meet parents who are interested in finding out more about the University of Birmingham School as well as the practicalities of how to apply for places at our pioneering institution."
The events are expected to be popular, and with limited places, anyone interested in attending is asked to register by emailing universityschool@contacts.bham.ac.uk, stating their preferred date and number of people who would like to attend. Places will be allocated on a first come, first served basis.
Anyone who cannot make the July events or would like an update on the School following the summer should email the address above to be added to the mailing list or visit www.birmingham.ac.uk/university-school to register their details.
1 Notes/ Hide
revcleo likes this
birminghamupdates posted this